As told to Colleen Brunetti, MEd
Our fantastic Signing Time Academy instructors are using Potty Time right along with you and their clients!
Meet Elisha Hamburger. Elisha is an Academy instructor in Holden, MA (you can contact her HERE) and she had this to share: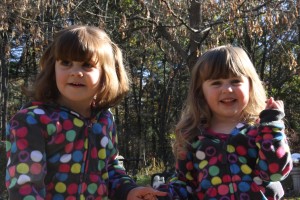 I have 2 daughters; Lucy who is 4 and has special needs and Macy who is 3. They both love Signing Time so I was thrilled when Potty Time came out!  I know Lucy will take longer due to her developmental delays, but she loves the video and signs potty.  She recently started pointing to her bottom and saying "poop" when she pooped in her pull-up!
We tried potty training Macy a few months ago and I think she just wasn't ready.  She just turned 3 and is in preschool now so I wanted to get on the ball! Macy loves the Potty Time DVD and last night Santa came early and brought her a new Dora potty seat. (I think we should come out with a Hopkins one!) She immediately wanted to use it. We sang the Potty Song (potty, wipe, flush, wash!) and then she asked to wear her Potty Watch!  She got a "call" from Rachel and we put a sticker on her chart on the app. A few minutes later, she said "Its time to go potty again!" We've had an exciting day and Macy has proudly used the potty 4 times! Thank you Potty Time!!
Way to go Hamburger family! But Elisha wasn't done. A few days later she also contacted me with a great story from one of her signing clients.
Michelle Currier writes about her son, Aidan:
My son loves the Potty Time video. Everyday he says "pot" and points at the TV, we watch it at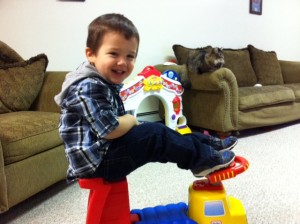 least once a day. There are times I just let it loop and we go about our day with it in the background. He knows most of the signs in the video now. I should note, I have not been actively trying to potty train my 2 1/2 year old, however, since watching the video he asks to go "pot" at least once a day! We are letting him go at his own speed for now. It's pretty impressive what he has picked up just from watching the video! 
Thank you so much for sharing your story Elisha and Michelle! We are so glad Potty Time is working for your family and we love to hear success stories like these!